Fighting Islamic State
A look at the U.S.-led coalition air campaign against Islamic State (IS) targets in Iraq and Syria
Updated
25 December, 2014
---
A look at Islamic State's arsenal
Islamic State fighters took a Jordanian pilot prisoner after his warplane came down in northeast Syria on Wednesday, the first captive taken from the U.S.-led coalition battling the jihadi group. There were contradictory accounts as to whether his aircraft had been shot down or not.
Note: List is not exhaustive and does not include pistols, and tactical or service vehicles.
---
U.S.-led coalition air strikes against IS targets
Number of air strikes by day and the approximate area where they were conducted
Iraq
Syria
With partner nation(s)
PLAY
The U.S. Central Command did not issue daily releases between Nov. 4 and Dec. 17.

Data includes additional strikes by the UK, France and Australia in Iraq, which are separate from data collated by the U.S. Central Command. Locations shown on the map are approximate and centered on the town or city identified in releases; if a town or city has not been identified in the release (e.g. northwest of Iraq), the strikes are not shown on the map. The map and chart excludes air strikes conducted by the U.S. against the al Qaeda-linked Khorasan group in Syria.
---
The battle for Kobani
Kobani, a key Syrian town nestled on the border with Turkey, has become the focal point of the U.S.-led coalition air strikes against Islamic State militants. In spite of losing access to a key supply road, IS fighters have maintained the lines of control in Kobani. According to the Syrian Observatory For Human Rights, orange areas are controlled by IS militants as of Oct. 13.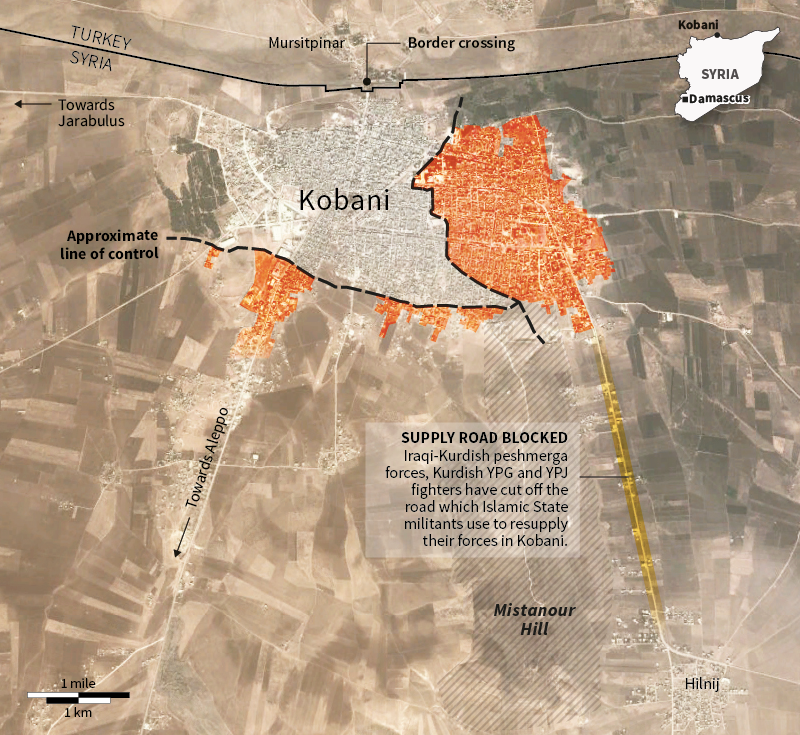 Fleeing to Turkey
The militant group has threatened to massacre Kobani's Kurdish defenders in an assault which has sent almost 200,000 Syrian Kurds fleeing to Turkey, and triggered a call to arms from Kurds across the region. Recent satellite images obtained by UNOSAT shows hundreds of vehicles clustered around a border crossing point on the Syrian side of the border and a new refugee camp has been created on the Turkish side of the border to accommodate the increasing number of refugees fleeing Kobani.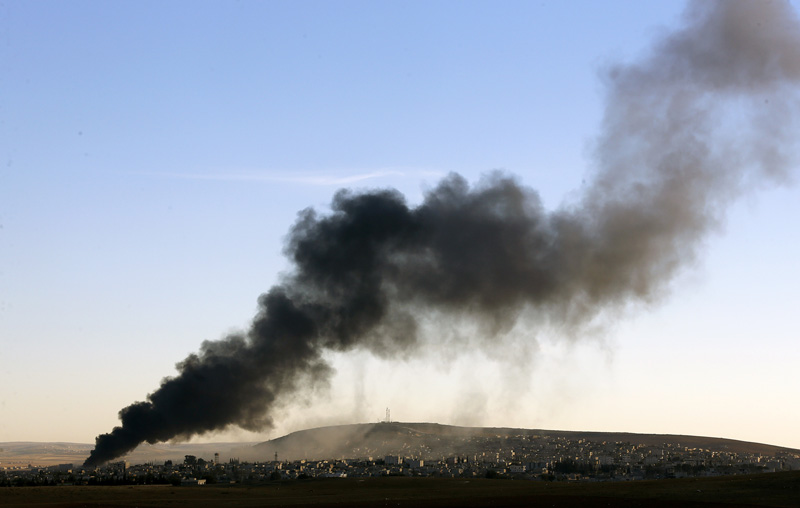 BESIEGED: Smoke rises over Kobani after an air strike, as seen from Turkey at the Turkish-Syrian border. The U.S.-led coalition has conducted more than 240 air strikes against Islamic State targets in Kobani after the militant group gained control over large parts of the Syrian town. Reuters/Yannis Behrakis
---
Areas of influence
Islamic State has caused international alarm by capturing large expanses of Iraq and Syria, declaring an Islamic "caliphate" erasing borders between the two and slaughtering or driving away Shi'ite Muslims, Christians and other communities who do not share their ultra-radical brand of Sunni Islam. The map below shows populated areas where a government or non-state armed group is dominant or control is contested.
Areas are constantly changing and reflect the situation as of Sept. 5 for Syria and Aug. 20 for Iraq. Includes additional reporting from Reuters.
---
Islamic State attacks in Iraq and Syria
The hardline militant group has launched more than 1,000 attacks in Iraq and Syria since 2006, according to the Global Terrorism Database. It now controls large swaths of both countries and seeks to re-create a medieval-style caliphate erasing borders from the Mediterranean to the Gulf.


Coalition nations conducting airstrikes in Iraq include the U.S., Australia, Belgium, Canada, Denmark, France, the Netherlands and the United Kingdom. Coalition nations conducting airstrikes in Syria include the U.S., Bahrain, Jordan, Saudi Arabia and the United Arab Emirates.

Satellite base image for Kobani from DigitalGLobe/Google Earth (2014); Satellite images for Kobani from UNITAR/UNOSAT, DigitalGlobe (2014); Satellite images for Mosul Dam from LandSat/Google Earth (2013)

Sources: U.S. Central Command; U.S. Department of Defense; U.S. Department of State's Humanitarian Information Unit (HIU); UK Ministry of Defence; France Ministry of Defence; Australia Department of Defence; Global Terrorism Database, University of Maryland; Syrian Observatory For Human Rights; Humanitarian Information Unit (HIU), U.S. Department of State; Conflict Armament Research; Reuters.

Graphic by Christine Chan, Matthew Weber, Wen Foo and Chris Inton